Technology clinically proven to kill viruses such as COVID-19 and Flu.
"Greatly reduce infection risk!"
"Sanitize any public, residential, or office area."
Using the "ViTralizer" allows you to easily sanitize and make the space far safer for your families, clients, employees, patients, passengers, etc.
A great advantage of our system is it's ability sanitize significantly more of the target area than manual cleaning alone. Under tables, chairs, benches behind curtains, under beds, etc.  The dry fog provides excellent coverage.
Our Specially formulated Neutralizing Solution is Hydrogen Peroxide Based. When used properly it is very safe and exceptionally effective against a wide range of  Viruses, Bacteria, Molds and Fungus.  The "food grade" solution is tested to be compatible with all surfaces, fabrics and electronics.  It will not leave a residue.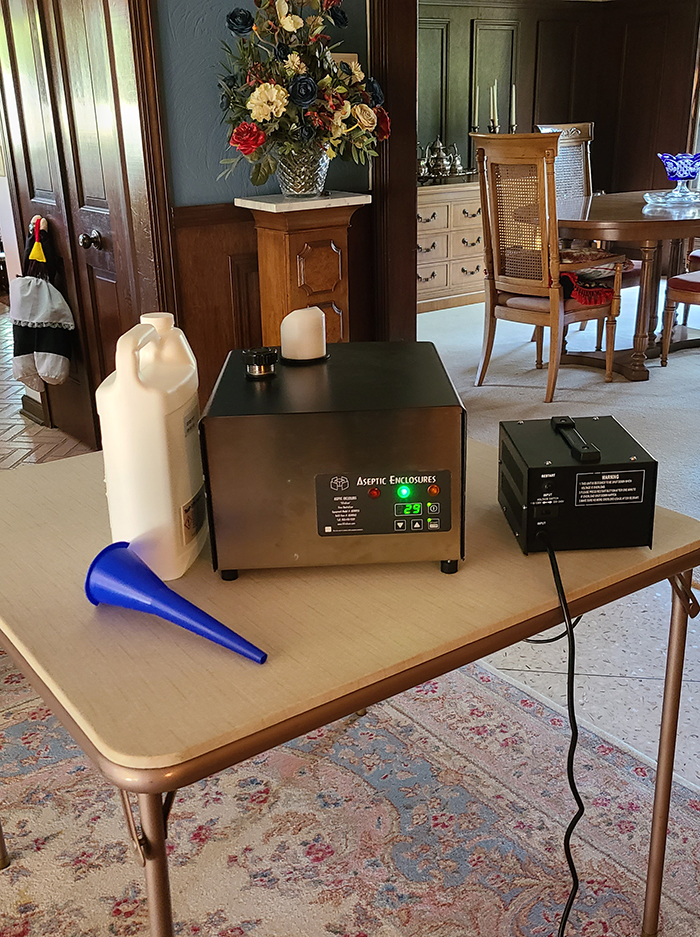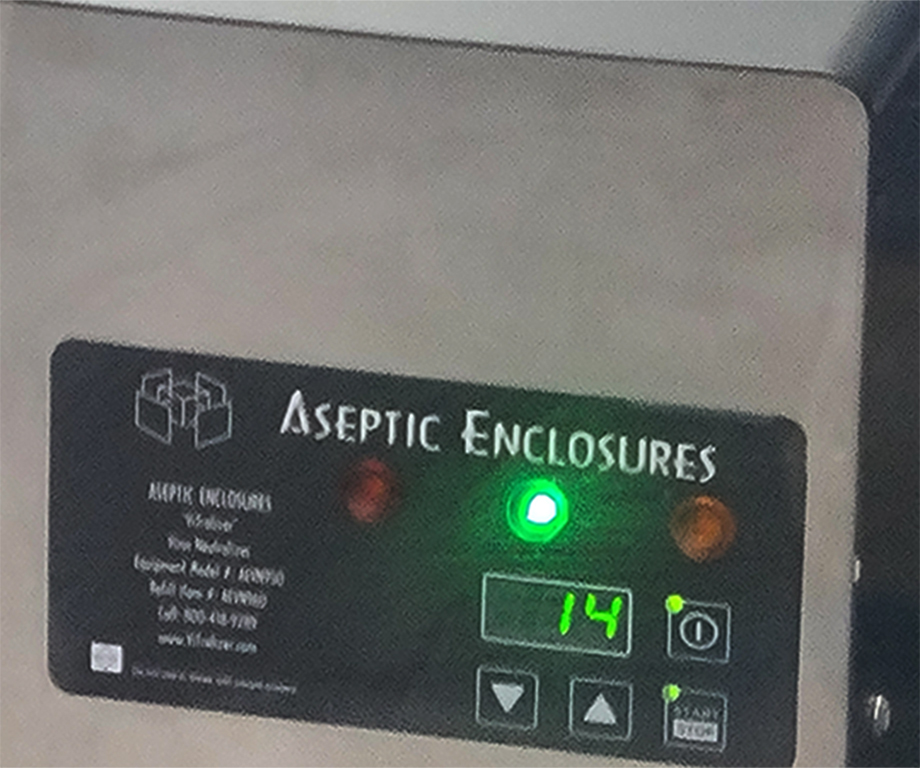 Better than competitive UV light systems, the "ViTralizer" provides tremendously greater coverage because it works in shadowed areas where UV cannot.  It is also compatible  many more surfaces than UV and is less expensive to purchase and operate.
Simply  fill the reservoir (about 1 qt), set the room size, push start and leave the room.  The "ViTralizer"  is capable of sanitizing over 17,000 cubic feet  (2,125 Square Feet @ 8 ft ceilings) in one run.  In less than an hour people can safely return to the now sanitized area.  If you need more space covered, just move the machine to a different location and run it again.  It's that easy.
Proven results:  For your assurance, before and after Micro laboratory testing is available.
Perfect For Safe Sanitizing of
airports, planes, hotels, busses, trains, subways, rental cars, homes, restaurants, bars, clubs, theaters, offices, labs, food processing plants, pharmacies, Clean Rooms, hospitals, prisons,,,any public or private space where you want to significantly reduce infection risk.
Kills: Viruses, Bacteria, Molds and Fungus.
Easy to handle. It weighs 22 pounds. It is 12w x14d x8h inches
Model #: AEVN950 $2,995.00
Refill Item #: AEVN960 $34.00/gal.
(Approximately 6000 sq. ft. /gal.)
Micro Lab testing: Call for pricing
Call: 800-418-9289
www.ViTralizer.com
The "ViTralizer" is proudly distributed by Aseptic Enclosures, in business since 1992
3720 Hampton Avenue
St. Louis, MO 63109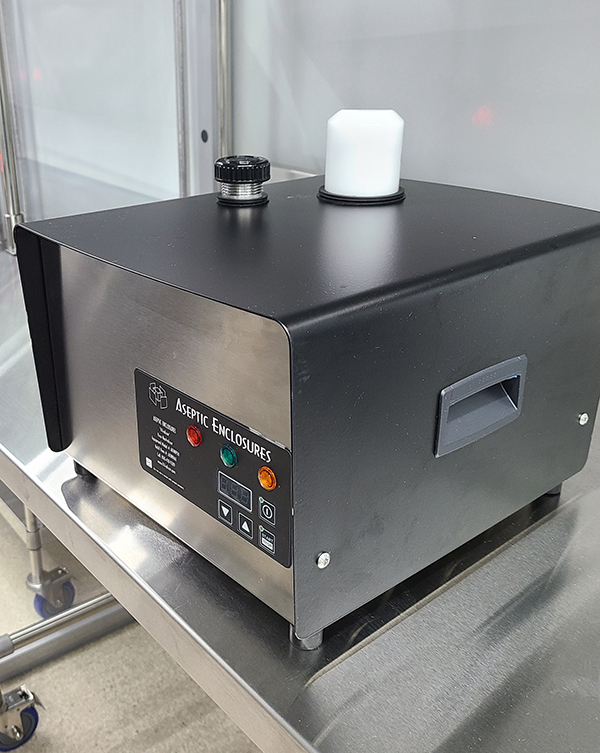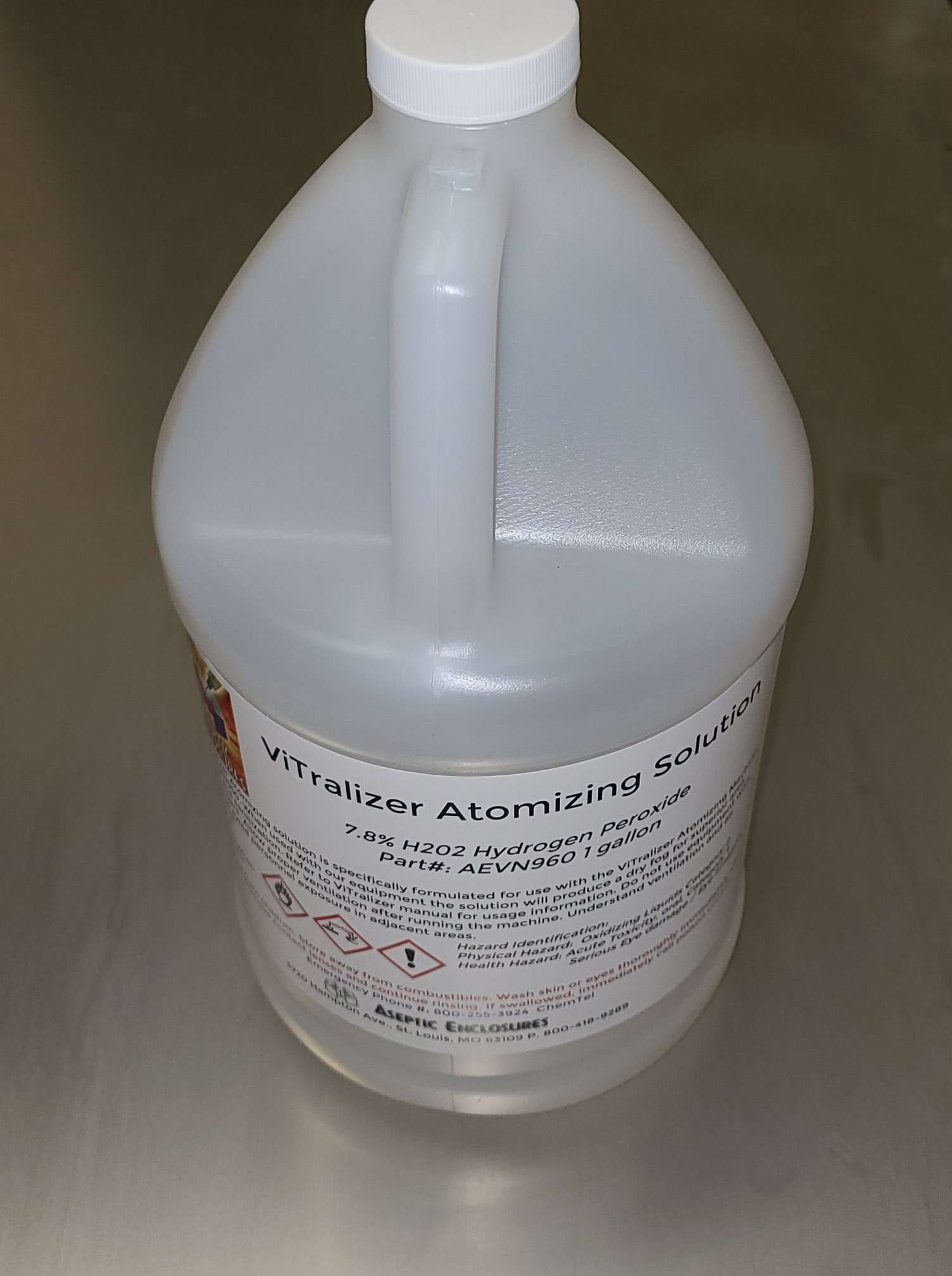 The ViTralizer Atomizing solution
is specifically formulated for use with the ViTralizer Atomizing Machine.
When used with our equipment the solution will produce a dry fog for superior area coverage and sanitization. Refer to ViTralizer manual for usage information.
Do not use equipment with people present. Allow proper ventilation after running the machine. Understand ventilation and air handling to avoid personnel exposure in adjacent areas.
Always wear gloves and eye/face protection when handling this product. Keep away from children. Store away from combustibles. Wash skin or eyes thoroughly immediately after exposure. Remove contact lenses and continue rinsing. If swallowed, immediately call poison control.
Hazard Identification: 
Physical Hazard: Oxidizing Liquids Category 2
Health Hazard: Acute Toxicity, oral, Category 4
Serious Eye damage / Eye irritation